Here is another project I have underway, a depiction of St. Catherine of Siena. My friend, Dubh, who served as a LAMP missionary with me, is my model for this piece.
I wanted to do a project with Dubh as my model, so to help me brainstorm a subject I asked her which female saints and portrayals of the Blessed Virgin Mary she feels connected to. She named off a list of female saints and of depictions of the Blessed Virgin Mary which emphasize certain aspects of the Faith which she feels particularly drawn to. I processed through this list in my mind, researching relevent depictions of Mary and female saints. For some reason I wanted for Dubh's beautiful hair to be part of the image, so that sort of narrowed things down as many of the saints she listed are habited, with their hair covered by a veil.
In my research, I came across a painting of St. Catherine of Siena, one of the saints which Dubh senses a particular connection with, which excited me as I saw it as a potential piece to model my painting with Dubh after. Typically, in depictions of St. Catherine of Siena her hair is covered, but this painting is an exception: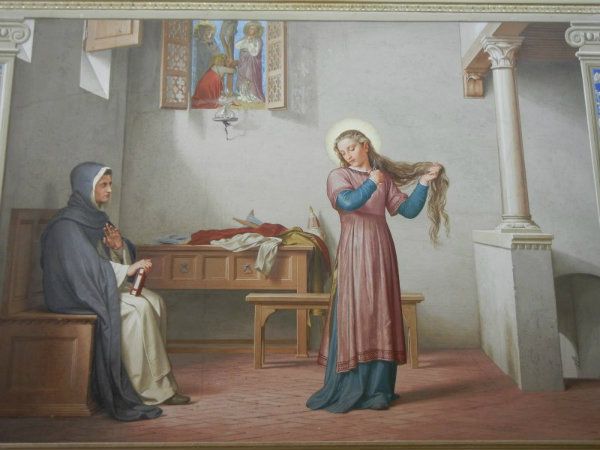 From what I've gathered, I believe it's painted on a wall of her home in Siena. (Please correct me if I am mistaken). The painting depicts St. Catherine of Siena cutting off her hair in front of her mother when she was twelve years old. Her parents were insistent on finding her a husband, but St. Catherine cut off her beautiful hair as a way of declaring that she desired to belong to Christ alone. I found this subject compelling as I perceived that it would be a way to convey something powerful about my model, Dubh. Dubh just entered a monastery of Poor Clares on August 22nd. She has told me that what drew her to the cloister was the element of the total sacrifice to Christ. When my family came down to New York City to visit me, they spent a night here with the women missionaries. I was explaining to my mom, after she had met Dubh, what she was doing and what it meant. My mom asked me, genuinely confounded, "Why would she do that--be closed up away from the world?...she's so beautiful...". Remembering my mother's words reinforces the sense that this image of St. Catherine cutting her hair is particularly well suited for Dubh to model for. I feel that this image is iconic in a way, a way to encapsulate visually Dubh's sacrifice, of her beauty being "wasted" on Christ as the woman who anointed Jesus' feet "wasted" her perfume of great cost on Christ. Jesus is worth giving everything for, that's what this piece is about. Another way this subject matter connects with Dubh is that part of the ceremony of investiture of the Poor Clares, where they recieve their religious habit, is the cutting off of their hair, after St. Clare. Also, Dubh is named after St. Catherine of Siena-- "Dubh", which she goes by, is actually her second middle name...her first middle name is "Kathleen" (her first name is a variation of "Mary", as are all her sisters' first names).
Below are my drawing studies for the painting. These studies are drawn from life, the only element of the image which I will work with photographic references to develop is the skirt which will completely cover the figure, like in the reference paintings.
Initial drawing: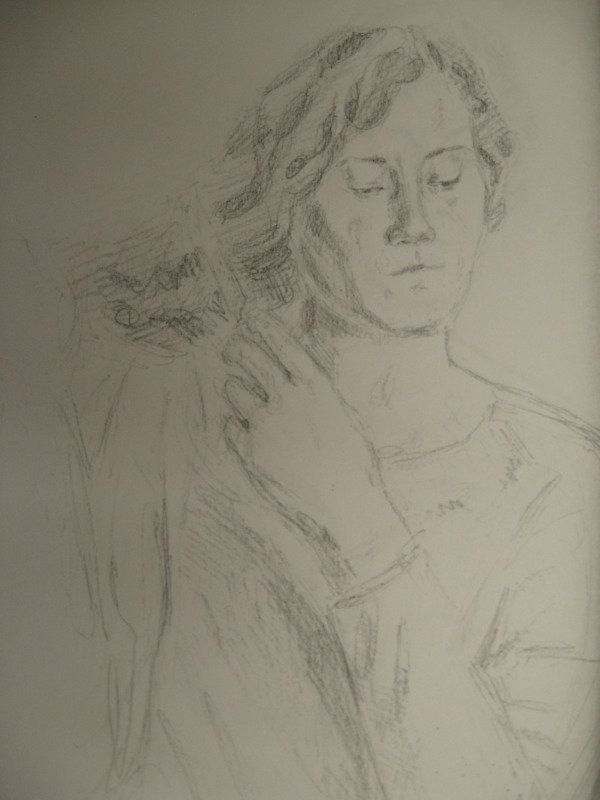 Hand study:
Drawings with the hand incorporated. I will go with the first one for the angle of her hand, the second one has more information in the face, particularly the nose: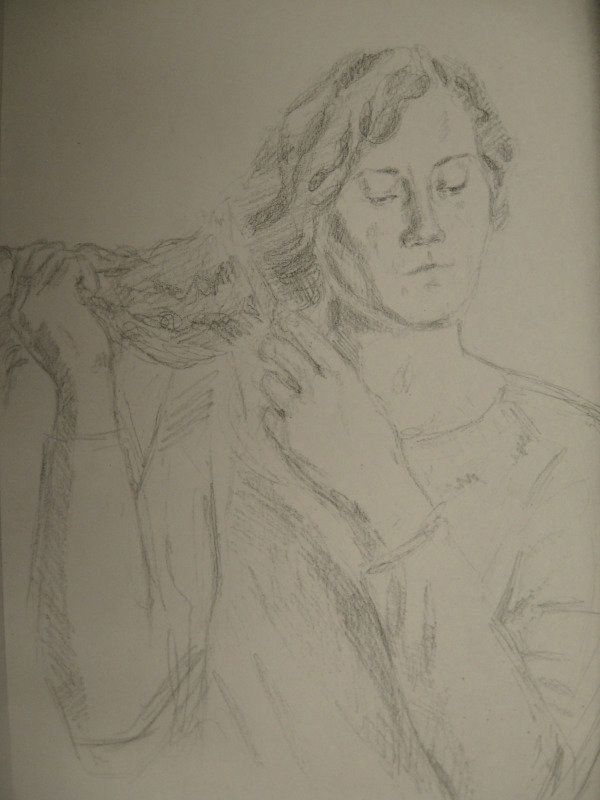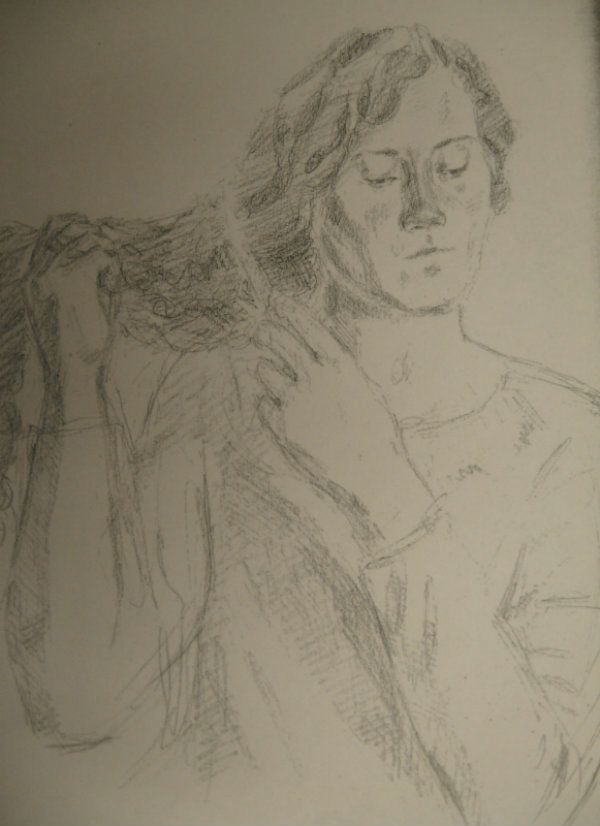 Rough full body sketch (with some of the bottom cut off in this photo):
Please pray for Dubh as she begins this new chapter of her life as a Poor Clare. St. Catherine of Siena-- pray for us!